Toronto is a growing city multicultural city, with a rapidly expanding population as well as becoming a major tourist hub. What's really nice about Toronto is that the city has quickly started to garner a multitude of subcultures and respective hot spots. This means that no matter what walk of life you come from, or what your interests are, there is are plenty of places to party at for everyone. However, if you're like us, a 20-30 something-year-old, but you're not a regular in the nightlife scene, the huge variety of nightlife spots can be overwhelming.
How many times has this happened to you: You go online, look up clubs in Toronto, find a generic club website where every club claims to be the best club in the city online, with glamorous pictures of the venue and descriptions that seem too good to be true – and you end up going but… it's either dead inside, it's got a super weird crowd, or… even worse, the dreaded sausage fest!
Lucky enough for you, we've been going downtown every weekend for years to keep you in the know about what's hot right now. Our team at Top Toronto Clubs who are regular party-goers take pride in keeping a pulse on what clubs are popping in the city so you don't have to. And if you're looking for a good club to celebrate your birthday at with a booth and bottle service, we have you covered.
Gone are the days of relying on your friend's opinions or taking a chance and spending a night (and your hard earned money) at a club just for you to find out its not your vibe.
The Best Clubs in Toronto
1. 44 Toronto
Address
627 King St W, Toronto, ON M5V 1M5
Crowd
20-30 years old
Music
EDM / Hip-Hop
Atmosphere
Young Professionals / High-Rollers
Best Nights
Fridays & Saturdays
44 Toronto is located on King Street West, just east of Bathurst Street in the basement of the same building as Lavelle. 44 Toronto is one of the best all round clubs in the club district on King West because it has a mix of everything that most people are looking for in a club. There is a really great mix of EDM, Hip-Hop and Trap on both Fridays and Saturdays, and the club caters both to those who want to ball out and spend big on a booth and bottles, as well as those who just want to party and dance the night away.
What is unique about 44 is that it's exclusive, yet has a true mix of both big spenders and casual club goers, all who are looking for an energetic club experience with a dark setting, flashy lights, good music, and good vibes. To top it all of 44 has a truly amazing sound system behind it bumping everyone's favourite club jams, keeping the crowd dancing all night.
It should be noted that to secure a booth and bottle, club-goers will pay a premium compared to other venues on King or Queen west, but that shouldn't discourage you from hosting your birthday or event here. Getting a booth and bottles at 44 is something anyone should try at least once in their lifetime. However, if you're looking to just get in via guestlist we highly suggest coming earlier than 10:00pm – 10:30pm on summer nights so you're not stuck in line because this venue fills up quick!
2. Door 3 (aka Door Three)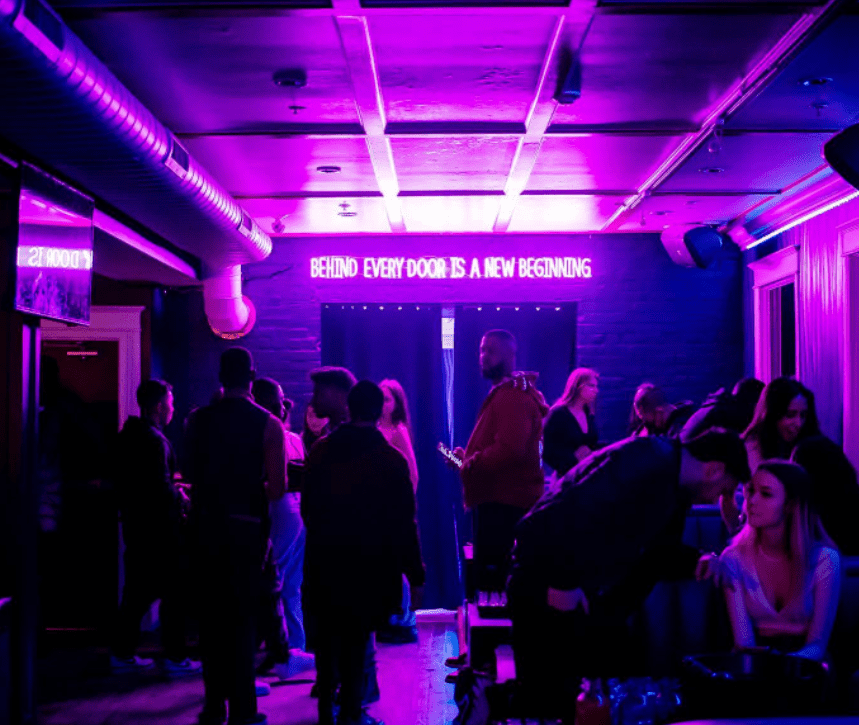 Address
667 King St W #2, Toronto, ON M5V 1M9
Crowd
19-26 years old
Music
Hip-Hop / Trap / Rap / Top-40
Atmosphere
Young Professionals & College Students
Best Nights
Fridays & Saturdays
Second on our list is the iconic Door 3, also known as Door Three. This small to medium sized club venue is a staple of King Street West with it's intimate layout of booths surrounding the large bar that lines the wall of the side of the club. Door 3 is one of our favourites for a lot of reasons, most notably is it's reasonably priced booth and bottles, and it's unique atmosphere which is a mix of it's lighting, great music, and a fun crowd. This venue feels both exclusive but at the same time has a crowd that knows how to turn up and has a good ratio of girls to guys.
Not only that, but Door 3 has recently undergone new renovations that really make this venue shine on another level, without stripping it of what it used to look like. Before or after COVID, this venue has a special place in our hearts. Very professional staff and owners, a consistent vibe all contribute to a good experience no matter what night you decide to party at Door 3. Because booths and bottles are fairly priced, this is one spot we highly recommend getting booths and bottle service at if you're having a birthday party or just trying to enjoy a special night out with a group of friends, because the booths are exclusive, but don't leave you secluded from the rest of the venue like some clubs booths do.
3. Toybox
Address
473 Adelaide St W, Toronto, ON M5V 1T1
Crowd
19-23 years old
Music
Pop Hip-Hop
Atmosphere
College / University Students
Best Nights
Saturdays
Toybox is a relatively new club on King St. West, as it first opened its doors early in 2019. Previously this location was Uniun nightclub, so if you are familiar with the layout of that club, not much has changed in that department. However, once in the venue you'll notice it's a completely different vibe. Toybox is a top 40 / pop hip-hop club (whereas Uniun was previously EDM centric), the music targets college and university students who want a night out with their favourite pop hip-hop songs, and top 40 anthems. The décor of the club is black and red tones which provide a dark sultry feel but a fun vibe. 
Toybox is most prominently known for its mascot which is a small beige bear that parades around the club and proceeds to dance and pretend to drink from bottles. As gimmicky as it sounds it works and it's the only club in Toronto that has a mascot like this. Toybox is known amongst the younger crowd for being a central hot spot and is generally quite busy on most nights.
Here is our list of the best night clubs in Toronto for 2020, where we tried to rank them in order in where we would go from 10-1, but also tried to include a balance of those that have mass appeal but maintaining some of our favorite exclusive spots.
4. Lovechild Social House
Address
69 Bathurst St, Toronto, ON M5V 2P6
Crowd
21-26 years old
Music 
Hip-Hop / Rap / Top-40
Atmosphere
Young Professionals
Best Nights 
Saturdays
Second on our list is Love Child Social House, a club that used to have a very different vibe prior to COVID, they've slowly transformed into an even better club / bar experience than ever before. For those of you that are looking for a super fun club that doesn't take itself too seriously, Love Child is exactly what you're looking for. This large venue is third on the list because it's the perfect setting for birthdays or a night out with your friends. Love Child booth and bottles are reasonably priced and we consider it a great value for a club in the fashion district of Toronto.
What we personally love about Love Child is the large open concept venue with a huge bar lining the main dance floor, and a second bar in the more exclusive elevated area that is filled with more booths. This club has the perfect balance of really good music, a good quality crowd, and an inviting atmosphere which makes it hard not to have a good night. If you're looking for a spot to really have a night you won't forget, you can't go wrong with Love Child, and it's a massive improvement from what it used to be pre-COVID!
5. Call Her Juliet
Address
510 King St W, Toronto, ON M5V 1K4
Crowd
19-25 years old
Music
Hip-Hop / Trap / Afrobeats
Atmosphere
Urban Youth
Best Nights
Saturdays
Call Her Juliet is a new club on King St. West, previously known as 'Same Nightclub' the club has been turned over into what is commonly referred to as just "Juliet". Call Her Juliet has gotten a great facelift if you love blue, purple, pink neon aesthetics, this club is filled with just that. Juliet predominately plays hip-hop / rap / trap / and afro-beats, so the crowd here typically consists of only those indulge in this scene. This just might be the spot you'll find your local trapper at. No really – he's here with a bottle of Henny in his hand with a Toronto ting giving him a bubble in the corner – this is that spot. But it's that type of spot in a good way, because the venue is beautifully decorated with a beautiful neon blue and pink ambiance. Juliet caters to a younger crowd who are looking for a night of partying to their favourite hip-hop tunes with a mix of trap and afro bangers. Call Her Juliet is almost like 'Truth nightclub' from Power, except with a bit more 'Toronto mans'. Definitely a fun spot to visit if you're trying to turn up to your favorite trap and rap anthems.
6. EFS (Everything for Sale)
Address
647 King St W, Toronto, ON M5V 1M5
Crowd
20-30 years old
Music
Hip-Hop / Trap / Afro
Atmosphere
Young & Mature Professionals
Best Nights
Fridays and Saturdays
EFS has been a primary club location in the King West club community for the past 8 years. Amongst a multitude of other clubs constantly opening and closing their doors or shifting to public rebranding, EFS has remained steadfast in its name, music, vibe, and the crowd. But how and why? One word. Consistency.
EFS consistently brings out a solid crowd each and every weekend and has continued to maintain its prestige as one of the hottest clubs in Toronto. EFS keeps its standards high with a high level of crowd control. Expect to only get into this venue if you get guestlist ahead of time, with the exception for those with bottle service and or a booth booked. Additionally, you should show up dressed to impress as the bouncers at EFS take the dress code seriously, and from what we've noticed, they try to maintain the image of the club by being selective about who they let in. The music is always impeccable here at EFS nightclub, spinning Hip-Hop, Trap and a lot of original Hip-Hop mixes. It also helps that the crowd is always diverse yet professional and stylish, so you won't be seeing a lot of sloppy and rowdy drunks here. Just like Lost and Found, expect to see celebrities drop by this venue on special nights, including Nav, Young Thug, or even Drake. EFS objectively maintains its spot as one of the top clubs in Toronto and is always a solid choice for any night out.
7. Lavelle
Address
627 King St W, Toronto, ON M5V 1M5
Crowd
22-30+ years old
Music
Hip-Hop / R&B / Chill House
Atmosphere
Young & Mature Professionals
Best Nights
Fridays
At number 1, it's the infamous Lavelle Rooftop Lounge. To say that Lavelle has redefined the expectations of Toronto's nightlife would be an understatement. This astounding venue has set the bar for what club-goers expect when it comes to an upscale vibe, atmosphere, décor, and music. Once this beautiful spot opened its doors as primarily a hip-hop lounge/club, we saw many other spots trying to keep up with its swanky image and posh décor. If you haven't already noticed the white Lavelle sign in every girl from Toronto's Instagram (similar to the Cabana's "On-the-lake skyline shot"), then take our word for it that this a staple spot in Toronto's nightlife scene that everyone and their friends are talking about.
There's just something about neon-lit pools in a vast spread out venue, on a rooftop with a view of Toronto's core that is undeniably breathtaking. Combining these core elements with Lavelle's new appeal to the younger crowd and change in its lounge music to Trap and Hip-Hop on Friday and Saturday nights, the venue is generally very busy every weekend. In the summer, expect the club to reach capacity by 11:30 PM, in the colder months this might happen closer to 12:40-1:00 AM. Lavelle has earned its number one spot, and will likely keep it for some time until another venue can achieve this holistic balance of décor, vibe, music, and crowd.
More recently, Lavelle's booth & bottles have become better priced to accommodate a wider range of patrons, and with cabanas available in the summer, it's a pretty good spot to host a birthday celebration for you and your friends.
8. The Drake Hotel
Address
1150 Queen St W, Toronto, ON M6J 1J3
Crowd
24-30 years old
Music
Hip-Hop
Atmosphere
Laidback smart casual
Best Nights
Fridays and Saturdays
At number 8, we have the good old Drake Hotel. The Drake Hotel has been a staple on Queen West for years. The club has three levels, so there's a vibe and scene for everyone, at almost any age. Upstairs is a rooftop and bar, that's more laid back for casual conversations. The main floor is a dancefloor and bar that's usually always busy and more so party-centric. Finally, the downstairs area is labeled "The Drake Underground" which usually plays eclectic hip-hop bangers with the occasional trap providing a more 'ratchet' feel, although some nights may be themed events like Y2K parties, where you can expect to hear a mix of 90's hip-hop and other 90's hits mixed in like the Venga boys.
The Drake Hotel leans towards an older crowd, usually 24+, but you'll still find a decent mix of youth amongst these seasoned nightlife goers. The Drake Hotel is probably our favorite laid back club when you're not in the mood for anything too crazy, and you're indulging in the hipster vibes of Queen West. You can't go wrong with a nice craft beer at the Drake with some friends. It also helps that there are no booths or bottle service in this club, which is why this club maintains its easy-going, laid back vibe. There's nothing to prove at the Drake, and the Drake isn't trying to prove anything to anyone. Now you know why it's a cornerstone of Queen St. West's nightlife venues.
9. Lost and Found
Address
577 King St W, Toronto, ON M5V 1M1
Crowd
20-25 years old
Music
Hip-Hop / Trap
Atmosphere
Young Professionals
Best Nights
Saturdays
As one of the "most exclusive clubs in Toronto" unfortunately Lost & Found ranks at number 7 on the list. Lost and Found nightclub does have a lot to offer in terms of a unique crowd and non-mainstream hip-hop bangers however the high barrier to entry is what the biggest gripe is. If you are a group of solely females, this won't be a problem for you. However, if you are in a mixed group, or a group solely consisting of guys, be prepared to get bottle service or be turned away. Our advice for you is to make backup plans if you aren't ready to get bottle service,  as guestlist may not be a sure bet for a mixed group. Something to keep in mind if you do get in is that Lost & Found, is a smaller underground venue with its dimly lit vibe, so it can reach capacity quickly and become shoulder-to-shoulder crowded.
Lost & Found does consistently draw a large crowd every Friday and Saturday night, as well as the infamous Lost & Found Mondays, nights on which celebrities may occasionally stop by (best example is the Weeknd's reference lyric "I f*ck a bitch from Lost and Found like every Monday"). The music is undeniably fire, since Lost and Found plays the hottest hip-hop anthems and a range of underground and top 40 trap. Lost and Found holds its own on our top 10 list of Toronto nightlife.
10. Rebel
Address
11 Polson St, Toronto, ON M5A 1A4
Crowd
19-50+ years old
Music
4 Rooms – 4 Sounds (Hip-Hop,  Top 40, EDM, Latin / Reggaeton)
Atmosphere
Mixed venue
Best Nights
Saturdays
Where would a list of the best clubs in Toronto be without Rebel? Rebel nightclub is Toronto's take on a massive Vegas multi-room nightclub and is by far the biggest club in Toronto. This enormous venue holds up to 4,000 people so expect a vast venue that appeals to the masses. The club consists of 4 different rooms/sections. The main room plays Top – 40 / EDM mixes / Hip-Hop mixes, while the purple room plays pure R&B and Hip-Hop, the Noir Room located upstairs plays EDM, Tech & Trance, and finally the Savage room plays Top Latin / Reggaeton bangers. 
As you've probably noticed reading through this guide, most venues in Toronto are smaller niche type environments, with each club appealing to a certain demographic, crowd and musical taste, however, Rebel is the exact opposite and aims to target everyone. While some do not like the mass appeal, some love that the club has a change of environment just a walk away and is packed with so many people you'll never see the same face twice in one night. Rebel nightclub is definitely a spot to visit at least once in Toronto if you've never been because it's unlike anything else in the city. If you're looking for the biggest venue with the most people, and some crazy vegas-style pyrotechnics and LED lighting, this is the venue for you, just keep in mind the crowd will be very mixed.