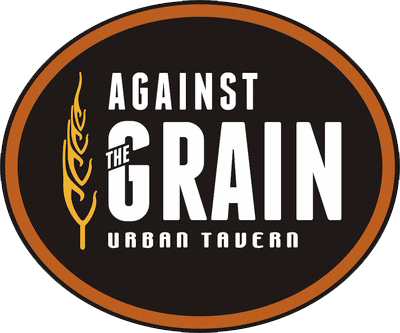 Against the Grain Toronto Patio
Draft brews at a casual and classy patio space with beautiful waterfront views.
 Overview:
Located at Sugar Beach, just steps away from the harbour front, this patio is one of Toronto's foremost known waterfront Patios. An open concept – modern casual patio, this restaurant caters to young professionals, but draws in a mix of patrons in the area including students and mature clientele. It maintains a relaxed but sophisticated ambiance, and is most likely Toronto's 'hippest' waterfront patio. 
Perfect for a date, special occasions or just chilling by the lake, the serene waterfront view and sophisticated decor collate to create a unique dining experience. The dishes range from standard North American classics, to modern takes on international cuisine, ranging from Tacos, to Jerk Chicken, and Burgers, Hummus, and a range of seafood dishes, there is definitely something for everyone. Against The Grain serves a wide variety of hand crafted cocktails along with the standard beer and wine  options one would expect, making it an ideal location for waterfront drinks.
Our Review:
Against the Grain is a relaxed, casual but relatively upscale patio venue with high quality dishes and a wide range of cocktails and drinks to enjoy by the waterfront, and is located near Sugar Beach. The venue is best suited to a mix of young and mature professionals. The view of the waterfront alone is one of the biggest attractions to this huge outdoor patio spot, and we can see this being a nice place to visit with friends, go on a date, or for a semi-casual business dinner.
This venue serves high-quality, upscale food with good portions at a good price. We think the value you get for what you spend at this spot is great and with an eclectic menu of diverse dishes there is something for everyone here. The food served here overall is more geared toward a more mature clientele, but we also think there are some standout dishes on the menu that would appeal to young professionals as well.
Some standout dishes for us include the Two Way Tuna Tacos which was perfectly topped and was bursting with Japanese inspired flavours. We also really enjoyed the Salmon plate which was perfectly cooked and seasoned, and came with a crispy and delicious crust. Finally, we had the Jerk Chicken plate which had a very authentic seasoning, and is a hit if you're into spicy dishes.
Moving onto drinks, we enjoyed a nice variety of cocktails including the Sunshine Gin Fizz which as its name states is a sweet and slightly sour gin drink with a head of foam and topped with fresh rosemary on top. We also enjoyed the Jalapeño Margarita which was a unique take on a margarita with a spicy and sweet pairing of flavours. Next we tried the Purple Rain, another gin based drink with maraschino liqueur, grapefruit juice, and lime juice. Similar to the other drinks this one was sweet with a hint of sourness. Finally we were served a classic Piña Colada, a standard and refreshing cocktail you can't really go wrong with ordering which was great to enjoy with dessert.
Overall service was great, with staff being attentive and accommodating to us throughout our time seated.  The food was overall well plated, presentation was solid, and each ethnic dish had very authentic flavours. Against The Grain is a perfect choice if you're looking for a chill and low-key patio venue to enjoy the nice weather with some top notch food and drinks.
Music:
Pop
Crowd:
Young & Mature Professionals, 21-35+
Vibe:
Open Concept, Relaxed Upscale Patio
Our In-Depth Review:
Against The Grain is a large outdoor waterfront patio located off of Sugar Beach in the downtown Toronto core. This outdoor patio isn't covered but does have large parasols over many of its seated areas. The venue offers a mix of both standard seated tables as well as large picnic tables for groups larger than 4. The approximate capacity of this patio is about 80 – 120 people including the extended patio area with picnic tables. Against the grain accepts walk-ins but we suggest booking reservations if you plan to visit at a peak time or day on the weekend. The vibe overall is pretty relaxed with a mix of young and mature professionals, and the ambiance definitely feels somewhat upscale. The decor is classy and modern for an outdoor patio and the venue has a menu mixed with American and a variety of ethic cuisines for a great price. Overall we'd consider this spot casual and upscale.
Moving onto food and drinks we started off with a couple of cocktails. First we tried the Sunshine Gin Fizz which is made with Tanqueray de Sevilla, rosemary, fresh lemon juice, honey, egg whites and a dash of orange bitters. This drink overall was quite good if you're into a sweet gin cocktail with a diverse range of flavours and a foamy head.
Second we tried the Jalapeño Margarita which has Jose Cuervo Blanco, Grand Marnier, fresh lime juice, agave syrup, sliced jalapeño, and chili salt on its rim. Again, another unique take on a margarita. Not as spicy as you'd expect, which in our opinion is good and makes it more approachable. 
For appetizers we were first served the Two Way Tuna Tacos which was our favourite dish out of the entire experience. This dish featured seared Albacore tuna, spicy tuna, sticky rice, nori, tamari, toasted sesame, and was a delicious appetizer, bursting with Japanese flavours.
Next we tried the Hummus which had roasted edamame, curried garbanzo, fried curry leaf, mustard seed caviar, and kecap manis, served with a side of warm pita. This hummus was exceptionally good and had a very authentic Middle Eastern flavour. 
Moving onto mains we were served a Salmon plate that was executed very well. This dish featured pommes purée, charred broccolini, and smoked tomato cream sauce. The salmon was perfectly cooked, juicy, and had a very crispy crust. 
We then enjoyed a Jerk Chicken place with seasoned basmati, bok choy, honey tamarind gastrique, pickled chili, and pickled onion. This dish was relatively spicy but had a very authentic seasoning and was overall well balanced. 
Back to cocktails, we tried the Purple Rain, a drink made with Empress 1908 gin, maraschino liqueur, grapefruit juice, fresh lime juice, and simple syrup. 
We also enjoyed a refreshing Pina Colada made with Malibu coconut rum, pineapple juice, and coconut cream to go with dessert.
For dessert we were first served the Chocolate Cake which came with hazelnut buttercream, vanilla buttercream, dulce de leche essence, chocolate ganache, shavings, and sugar pearls.
Last but not least we tried the Maple Donut Holes which was a standout dessert dish reminiscent of a funnel cake you'd find at an amusement park. These crispy and savoury donut holes come topped with maple glaze, coconut chantilly, and shaved coconut chips.
Overall we were very impressed with what Against The Grain had to offer in terms of food, ambiance, and service. If you're looking for a patio venue that mixes casual and classy, and are up for some beautiful waterfront views, this is a great patio to enjoy this summer.
Multiple guides of the hottest and trendiest patios in Toronto.