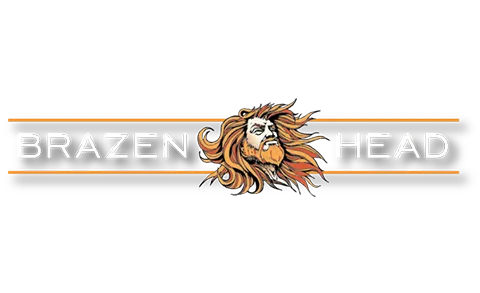 Brazen Head Toronto Patio
Modern Irish Pub with a casual and welcoming outdoor patio perfect for pub eats and drinks on a hot summer day.
Overview:
Brazen Head is a modern Irish pub located in Liberty Village in the west end of the downtown Toronto Core on East Liberty St. This outdoor, streetside patio features a seating for up to 70 guests with it's several standard seated and large picnic tables. Brazen Head takes reservations and walk-ins, but due to its popularity on warm and sunny days expect it to busy, especially on weekends. This particular spot has the casual vibe of an Irish pub with a modern and refined twist.
The overall ambiance is a relaxed outdoor soak up the sun restaurant patio spot perfect for lunch and drinks with friends or family. Brazen Head sports a clean and modern take on an Irish Pub without straying too far away from its roots. With nice outdoor seating, picnic tables, and metal planters beside it's red brick walls it's a nice clean bar patio that fits perfectly at its location in the heart of Liberty Village.
Our Review:
Brazen Head serves up a menu of pub food you'd expect from a bar, but does it well which makes this Irish pub a cut above what you'd expect. With a mix of appetizers ranging from their tasty soda bread – reminiscent of an Italian bruschetta, to nachos, calamari, and pub wings you can't really go wrong with the starters. Additionally, Brazen Head offers some awesome sandwiches ranging from burgers and fries to their tasty Nashville Hot Chicken Sandwich, all the way to their modern pub plates which include dishes such as the Brazen Duck Pie which is a made with a tasty duck confit.
Brazen also offers a butter tart aptly named "Butta Tart" which is sprinkled with a crispy saltwater toffee and was probably our favourite dessert menu item. We think this is a great spot to celebrate a casual birthday lunch or a pub to go out to with a group of friends. The dishes are overall of high quality and we know just about anyone would enjoy them.
Aside from grabbing a beer or two from the bar, Brazen also offers a nice mix of handcrafted summer cocktails. Some standouts include the Irish Mule and the Blackberry Bourbon Sour. And as any pub would, they also offer beer by the bottle, ciders, wine, hard seltzers, and even some frozen drinks perfect for a hot summer day.
Overall the pricing is what you'd expect from a high quality modern pub, not cheap but not overly expensive, and overall great value for the high quality food. To summarize, if you're looking for a nice Irish pub with good food and great drinks and you're in the Liberty Village area, this is a great spot to enjoy this summer!
Music:
Funk / Pop
Crowd:
Young & Mature Professionals, 21-35+, Family Friendly
Vibe:
Modern Casual Patio Bar, Irish Pub
Our In-Depth Review:
We visited Brazen Head on a hot Saturday afternoon around 3pm and were pleasantly surprised with a busy but relaxed outdoor patio. After being sat at one of their many large yellow picnic tables we started out with a house cocktail called Aperol Spritz which was a mix of Aperol, Prosecco, and Soda Water. A tasty and refreshing bubbly cocktail to start things off.
Next we were served two of Brazen Head's most popular cocktails, an Irish Mule, and their Blackberry Bourbon Sour. The Irish Mule was served in a copper cup and was reminiscent of a Russian Mule with ginger beer, Bushmills Irish Whiskey, lime juice and mint. A truly refined and refreshing taste that we think is this venue's staple cocktail with it being an Irish Pub. 
The Blackberry Bourbon Sour was also another hit, and we think anyone who particularly enjoys a sour drink will love this cocktail. With a mix of Bulleit Bourbon, fresh lemon juice, simple syrup and fresh blackberries, this tart drink paired well with the appetizers we enjoyed.
For appetizers we tried the Garlic & Tomato Soda Bread (Vegetarian) which was a perfect take on an Italian Bruschetta for us. This was our personal favourite app on the menu because it's ingredients were noticeably fresh and overall was bursting with flavour. This small plate features their house made herb and lemon soda bread topped with garlic & herb butter, blistered tomatoes, basil, and sprinkled with parmesan cheese.
Onto the mains, we enjoyed a seriously delicious Nashville Hot Chicken sandwich with a nearly perfectly seasoned crust, covered in a house fermented chili and honey hot sauce all sitting on a fresh brioche bun. This dish also features a horseradish aioli on the side that goes great with the fries.
The second main we enjoyed was the hearty and stewy tasting Brazen Duck Pie which is filled with duck confit, wild mushrooms, potatoes, fresh peas, and herbed pearl barley. Served with a side of house gravy and piccalilli this modern pub plate was both tasty and filling. We especially liked the buttery crust on this dish which is important for any meat pie.
Last but not least, for dessert we finished off with the perfect butter tart. We've tried a lot of butter tarts in our lifetimes, but this one may take the cake for one of the best butter tarts we've ever enjoyed in the city. This buttery pastry topped with crispy saltwater toffee and powdered sugar really hit the spot and was the perfect dessert to end the meal with.
Overall we thought that the food we sampled at Brazen was of above average quality, especially for a pub, and can say we were pleasantly surprised by all of the dishes. Brazen is a good balance between value and quality eats, and with it being located in Liberty Village, there isn't much more to ask for. This Irish pub patio is a great all-round restaurant for casual eats and drinks on a summer day, whether you want to bring a group of friends or eat out with family.
Multiple guides of the hottest and trendiest patios in Toronto.