Guestlist & Bottle Service
Address: 627 King St W, Toronto, ON M5V 1M5
Club Nights:  Friday & Saturday
Free Sign Up. Email Confirmation. Text Follow Ups.
Fill out your information below >
*Disclaimer: TopTorontoClubs.com is NOT a club or nightclub venue, nor is it directly associated with any venue. We are a party planning service that signs you up for guestlist for select clubs and/or helps to book bottle service for the requested venue, and as a part of our service, we may send special offers for other venues for the night of your request if available. | ©2023 TopTorontoClubs.com
👖 DRESS CODE 
• Generally collared shirts

• Strict upscale casual clothes with no graphic print
• No sneakers/runners
🎵 
MUSIC
Fri/Sat: Hip Hop / Trap / Urban Top 40
👥 

CROWD
• Upscale Young Professionals
• 21 – 35 years old
• Crowd is dressed clean / semi formal
💵 
COVER
• $20 
• $15 with guestlist before 11:30pm
MUSIC

90%

90%

ATMOSPHERE

85%

85%

CROWD

83%

83%

$ VALUE

85%

85%

MALE TO FEMALE RATIO

53%

53%
44 TORONTO OVERVIEW
A medium-large sized venue. One room. Entering 44 Toronto, the middle of the club has a central dance floor that is enclosed by booths. Since it's a smaller venue compared to other clubs, it can be crowded on the dance floor.
44 CLUB REVIEW
Having been to 44 Toronto multiple times we can tell you it is definitely one of the top clubs on King to party at as it's always busy and boasts a modern yet classy feel. Most nights are met with a great mix of music, good people, and great vibes.
For some 44 Toronto is a new spot that people just want to check out, and for others, it's a boujee spot that people come to get bottles at and show out.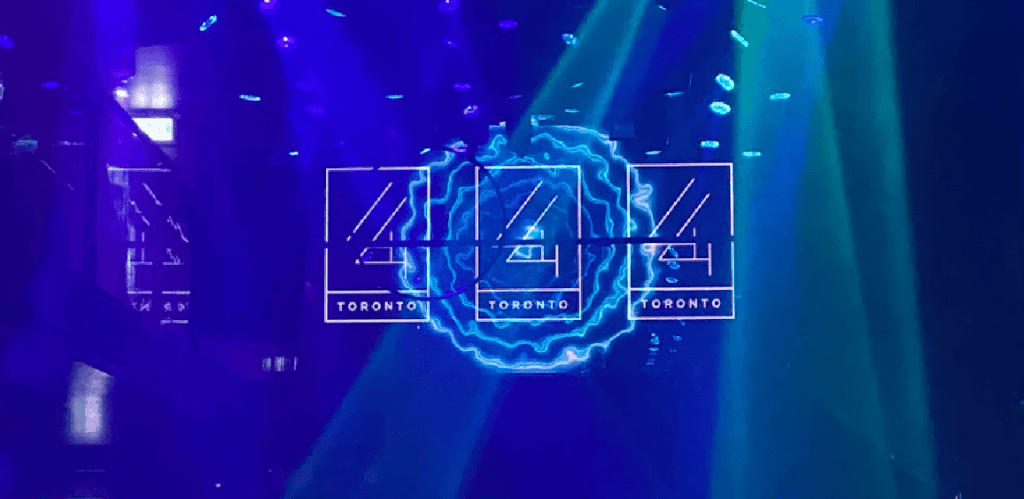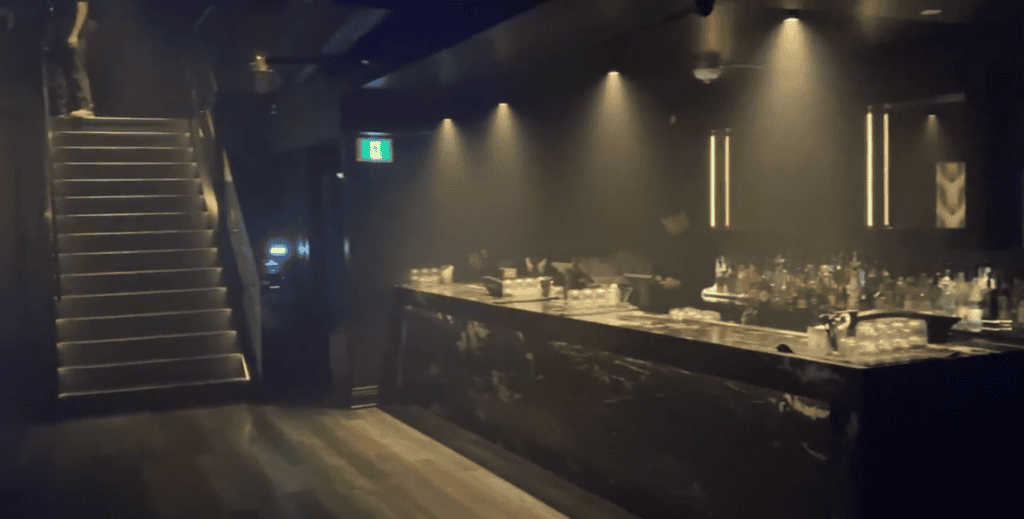 PROS
• More upper-class venue and crowd
• Music is on points and often have celebrity guests (like Drake)
• A venue to see and be seen
• One of Toronto's most popular venues post covid.
CONS
• Large groups may need a table
• Medium sized venue
INSIDER TIPS
• Arrive before 11 to avoid long lines
• This venue hits capacity quickly, and you should arrive very early or have bottle service
• Unlikely to be permitted entry without guestlist or bottle service with no exceptions

44 TORONTO GENERAL CLUB INFORMATION
The capacity of 44 Toronto is approximately 300 people for this small-to-medium sized basement venue. 44 Toronto features a main dance floor area surrounded by booths and a catwalk with glass panel railings. This venue is known for being dark with bright pink and purple neon lighting which is somewhat reminiscent of the club Wildflower which was also a basement club in the entertainment district.
Since 44 is one of the more popular venues on King Street even though it's fairly new, it still manages to get to capacity around 12:00-1AM. While the club hits capacity and it's peak around 1:00AM, it becomes very difficult to get into the club if you don't get there before 11:00PM. We don't suggest showing up any later than 11:30PM on a normal night because you may end up spending upwards of an hour in line to get in. 44 Toronto is located in the Basement of the Lavelle building, but it should be noted that they are completely separate venues which require separate stamps for entry of each. One other thing to note is that the security team is the same, but the actual venue door staff is separate. Lavelle's door staff is on the right and 44's Door Staff is on the left when facing the front of the venue. Same applies for the lines.
44's line up is on the left and Lavelle's line is on the right and wraps around under the tunnel area between Lavelle and Oretta. Also, dress code can be strict, requiring that patrons come in classy attire. This means you should avoid wearing white running shoes, timbs, or any sportswear / casual clothing. Finally, it's important to note 44 Toronto is guestlist and bottle service only. If entering the regular guest list line, once you pay for cover pass security, and walk down the stairs, you'll see the coat check area directly to the right. Coat check normally costs $4-6. 44 Toronto is located directly at the bottom of the stairs with Lavelle being off to the right and up the elevators.
44 Toronto is one of our favourite clubs because it plays a nice variety of Hip-Hop and Electronic music, and draws a healthy crowd every night. For a new club on King West, this is one of the top spots to party on the block.
44 LOCATION
44 Toronto is located in the city's core within the Fashion District on the south side of King Street West, just East of Bathurst and King. More specifically, 44 is located in the same residential building as Lavelle, except it's in the basement area.
44 TORONTO AGE LIMIT
You must be 21+ to enter 44 on a normal club night, with the exception of ladies who must be at least 19+ to enter.
44 TORONTO DRESS CODE
The dress code at 44 Toronto is both a mix of classy and fashionable, but also has a somewhat strict dress code. Ideally guys should wear dress shirts or classy attire, and ladies usually wear classy dresses or something current and fashionable. Absolutely no sports wear, men's side bags, boots, or sneakers are allowed for guys or girls, dress shoes or dressy boots are best for ensuring entry into the club. Door staff is typically more lenient with ladies, but you'll most often see ladies wearing heels at 44.
THE MUSIC AT 44
44 Toronto plays a nice mix of electronic / lounge house and then transitions gradually into Rap, R&B and Trap as the night goes on. We wouldn't necessarily consider 44 Toronto a Hip-Hop club, but it's definitely a mix of a typical club that plays EDM and Top 40 Rap/Hip-Hop anthems which gives its patrons a nice variety.
44 TORONTO COVER CHARGE
The cover charge for 44 is always $40 — even with a guestlist, and there's no reduced cover. Ladies, however, are free before 11:00PM. Also, if you are part of a booth and bottle booking, there are typically complimentary tickets included with your booth depending on the bottle package you purchase.
44 TORONTO GUESTLIST
We suggest signing up for a guestlist at least a day in advance to avoid any hiccups with being left off the guestlist. Because 44 Toronto is undoubtedly a difficult club to get into, we suggest arriving between 10:00PM to 10:15PM or 11:00PM at the very latest so you don't waste time standing outside in the line. You can get guestlist for 44 Toronto here.

44 BOOTH AND BOTTLE SERVICE
Since 44 Toronto is a premium club experience, meaning that booth and bottle prices at 44 Toronto range from $1500 – $4000+. Additionally, there are several packages available for special events and birthdays that include several bottles of champagne and liquor. Book booth and bottle service for 44 Toronto here.
44 Toronto In-Depth Club Review
44 Toronto is one of Toronto's newest nightclubs located in the Fashion District on King St. West and is known for its celebrity guest appearances, premium booths, and bottle service, and energetic atmosphere. This venue actually made its debut in 2021 while COVID restrictions were just being lifted for the first time, but has managed to make it to the other side. This is also one club that we can definitively say has very friendly and professional bar staff, bottle girls, door staff, and management, which we found really improves the overall experience of going to this club.
Get Bottle Service at 44 Toronto

Get On Guestlist For 44 Toronto
Where 44 Toronto Is Located
44 Toronto is located at 627 King Street West, just east of Bathurst and King Street West (a 2-3 minute walk from the intersection), and is actually located in the same building as the infamous Lavelle rooftop club, in the basement area. This venue is located in what we would consider the heart of the clubbing district of Toronto, since it is surrounded by many of the other well-known clubs and bars in the area, and typically has a big crowd of people always waiting to get inside.
The Music at 44 Toronto
Once you get inside, you'll walk down a set of stairs and go to your immediate left to enter the club, check-in to guestlist or for your booth, and you'll be greeted by sound of 44's DJ spinning mixes with everything ranging from Hip-Hop, EDM, Trap, Rap, and Top 40 hits! Not only does this club have a state of the art sound system, but 44 actually plays a really diverse mix of music compared to most clubs in the area which normally are considered "Hip-Hop" clubs. This club caters to a wider variety of people's taste with its heavy mix of electronic and rap which is actually quite rare in Toronto these days.
The Crowd at 44 Toronto
Because 44 plays a wide variety of music, it actually has quite a mixed demographic of people on any given night. We would say this club attracts people anywhere from 21-35+, with the majority being 25+. The 26-35+ year old age group typically has a booth and bottle service because this is considered more of a boujee club with premium pricing, while the younger crowd around 21-25 years old congregates at the bar and dancefloor. What we like about the crowd here is that despite it being a very exclusive nightclub, there is a good diversity of people on any given night which makes for a fun time. Also,  the ratio of guys to girls is generally pretty good on most nights.
How To Book Booth & Bottle Service at 44 Toronto
44 Toronto actually is one of the best booth and bottle service experiences in the city because you get to party and enjoy bottles at one of the most premium nightclubs in Toronto.
Booth and bottle service isn't cheap at 44 Toronto because it is considered a luxury nightclub experience and reflects that in its premium pricing for booths with higher than normal minimum spends and somewhat more expensive liquor and alcohol. That being said, having a booth at 44 is a unique experience that is much like having a booth and bottle service at a premium club in a place like Miami, New York, Las Vegas, or even Los Angeles, which we think is worth it if you're looking to celebrate a birthday or go out for an unforgettable night. On top of that, 44 has exceptional service from the bar staff and bottle girls.
44 has different minimums for different types of booths and locations in the club, but if you want to book bottle service here, you check out this link below for more details:
Sign Up For 44 Toronto Bottle Service Here
How To Get On The Guestlist at 44 Toronto
Since 44 Toronto is an extremely exclusive club, only those who are on guestlist prior to showing up are able to get into the venue on any given night. But, it should also be noted that just because you are on the guestlist does not guarantee you and your friends entry to the club. Guestlist is $40 for everyone, and we highly suggest getting to the venue before 10:15pm, or even as early as 10:00pm to line up so you have a higher chance of making it inside. The reason for this is that, like any club, booth & bottle service reservations will always be prioritized over guestlist.
Sign Up For 44 Toronto Guestlist Here

44 Toronto's Atmosphere & Club Layout
44 has a very unique club atmosphere compared to most of the other clubs on King Street West, and you won't really find anything like it unless you go to a club like Rebel which is all the way by the lake, or Toybox which is similar but much less exclusive and has an overall younger crowd. This club has a great balance of good music, a good crowd, exclusivity, and a layout that lends itself well to separating the booths from the rest of the crowd but at the same time doesn't completely isolate them from each other making it a cliquey environment. Overall we think 44 Toronto has a nice modern club environment with a state of the art lighting and sound system, CO2 cannons that go off in unison with the music, and a good crowd to match.
Celebrity Appearances at 44 Toronto
44 Toronto also is well known for having a lot of guest appearances and performances from local celebrities including Drake, Preme, Tory Lanez, and even U.S. artists Jaden Smith.
Again, 44 Toronto is unlike any other venue on King Street, or even Toronto if you ask us. This venue feels like a mix of all the best things from famous clubs in other major cities, combined into one… all with its own unique spin on things that makes it a club that Toronto is proud to have. It's rare that a club like this opens in the city and is a refreshing take on a swanky, high energy nightclub compared to your typical King West bar or Hip-Hop club.
With the right crowd, atmosphere, and music, 44 Toronto undoubtedly has redefined what it means to be a boujee, exclusive nightclub in the city and has established itself as one of the leading venues in the nightclub industry. With the right group of people and a reason to party, getting a booth and bottle service at 44 is an unmatched experience.
Ready To Book Your Birthday Celebration At 44 Toronto?
Ready to book your birthday or celebrate a night out with your friends at 44? We have you covered. Simply sign up using our forms below and we'll help you plan your night out at one of our favourite clubs in the city!
Get On Guestlist For 44 Toronto